5 Best Children's Rabbit Books and Crafts
The fourth Saturday in September is also observed as International Rabbit Day to promote the protection of rabbits, both in the wild and in captivity. This year, it falls on the 26th of September 2015. Here is a collection of rabbit books & crafts for kids of all ages -perfect for Easter, Chinese New Year of the Rabbit, or just for kids who love bunnies!
5 Best Children's Rabbit Books and Crafts
Let's start with our favorite Rabbit Books first
---
Knuffle Bunny (Mo Williams)
Trixie is a toddler who goes to the laundromat with her father, and on the way back realizes that Knuffle Bunny has been left behind. She tries her best to convey to Daddy, but since she can't yet speak, all she can do is make some garbled sounds and when that doesn't work, throw a tantrum –"she went boneless." But nothing can make Daddy understand, and he tries to distract her all the way home, to no avail. Only when they reach home, and Mommy asks, "Where is Knuffle Bunny?" that things get sorted out.
This is a wonderful read-aloud book that even very young children can understand, and empathize with.
Our favorite Knuffle Bunny crafts
Paint your own Knuffle Bunny craft using tempera colors– such a fun art activity for both preschoolers and kindergarteners via Buggy & Buddy Blog
And another one via Camp Clem – make a washing machine with Knuffle Bunny inside.
---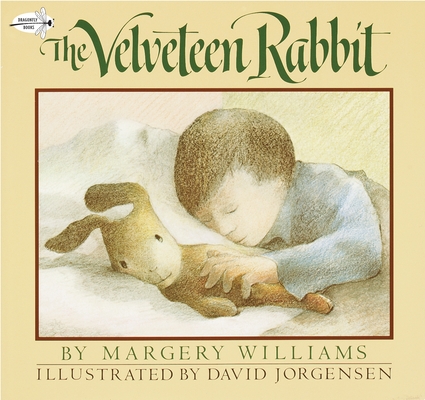 The Velveteen Rabbit (Margery Williams)
Let me quote from this book about the power of love, instead of giving a summary – the quote says volumes more than all I could.
"When a child loves you for a long, long time, not just to play with, but REALLY loves you, then you become Real. … Generally, by the time you are Real, most of your hair has been loved off, and your eyes drop out and you get loose in the joints and very shabby. But these things don't matter at all, because once you are Real you can't be ugly, except to people who don't understand."
This is the perfect read-aloud book.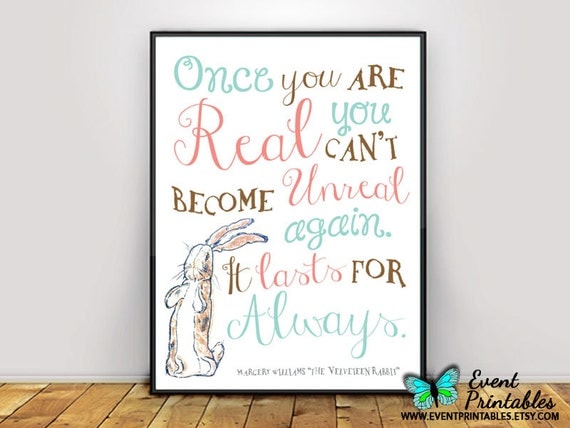 We love the quotes from this book. You can make a -"Once You Are Real" Wood Sign, Velveteen Rabbit Quote Wall Art.
---
The Rabbit Problem (Emily Gravett)
Rabbits certainly multiply very fast, and after a baby rabbit is born, he/she is all grown up in a month's time, and female rabbits can give birth to a litter 4-5 times a year. Emily Gravett has used this characteristic of rabbits to give us a wonderful picture book filled with rabbit drawings to illustrate the Fibonacci number series (found everywhere in nature – the numbers by which nature propagates), in which the next number is always a sum of the previous two numbers. 1, 1, 2, 3, 5, 8, 13, 21, 34, 55, 89, 144 … So, in the book, a pair of rabbits makes their home in a vast, empty field. But because of the rabbit problem, the field is overrun in a year's time!
Make multiple bunny finger puppets – easy to make and perfect for practicing early literacy skills!
We also love this fun, process based Fibonacci art project for kids. Great for S.T.E.A.M. learning at home or at school.
---
The Complete Adventures of Peter Rabbit (Beatrix Potter)
Peter Rabbit is a very naughty little rabbit, who often gets into trouble – he loves the carrots and lettuce in Mr. McGregor's garden – and he will slip in there despite his mother's frequent warnings. There is a whole series of stories featuring Peter Rabbit, his family, and other rabbits and animals in the countryside.
We made the perfect Peter Rabbit craft as a guest post for Make and Takes.com
---
Watership Down (Richard Adams)
A warren of rabbits is being encroached upon, and Five, one of them, 'sees' the destruction that will follow. He warns his fellow rabbits, and they leave their home in search of Watership Down, a hill which promises peace. This is the story of that epic journey, against all odds, a quest. So many themes that the book raises – the environment, relationships, friendship, struggling against odds and coming up victorious, caring for a fellow living being. The ethics of conservation and protection of nature as a habitat for wild animals – this is the perfect book to pick up for International Rabbit Day. A book for older kids, stories from it are also available in picture book format.
Make a paper bag bunny that goes perfectly well with this book.
What do you think of our Rabbit themed books & crafts? Which is your favorite rabbit craft – share your art, craft and book reviews in comments below.
Pin the below image to bookmark it.. or share with friends who might be looking