10 Handmade Gift Ideas for Boys
The end of August this year is the time for a special Indian festival, called Rakshabandhan. Literally translated, it means a bond of protection, and refers to the special love between siblings. If you're a Mom of more than one child, then you know more than ever that even if it looks like the kids are about to start World War III in your home, they still can't do without each other!!
This Rakshabandhan, we've lined up some special gifts for little girls to make for their brothers. Wouldn't it be fabulous to give a gift along with a rakhi. Traditionally the sisters always get the gift, we thought we should turn the tables and share gifts both ways. They're all easy to make with minimal supplies and effort, and are the kinds of gifts that the brothers are sure to enjoy and treasure (even if they don't admit it!).
10 Handmade Gift Ideas for Boys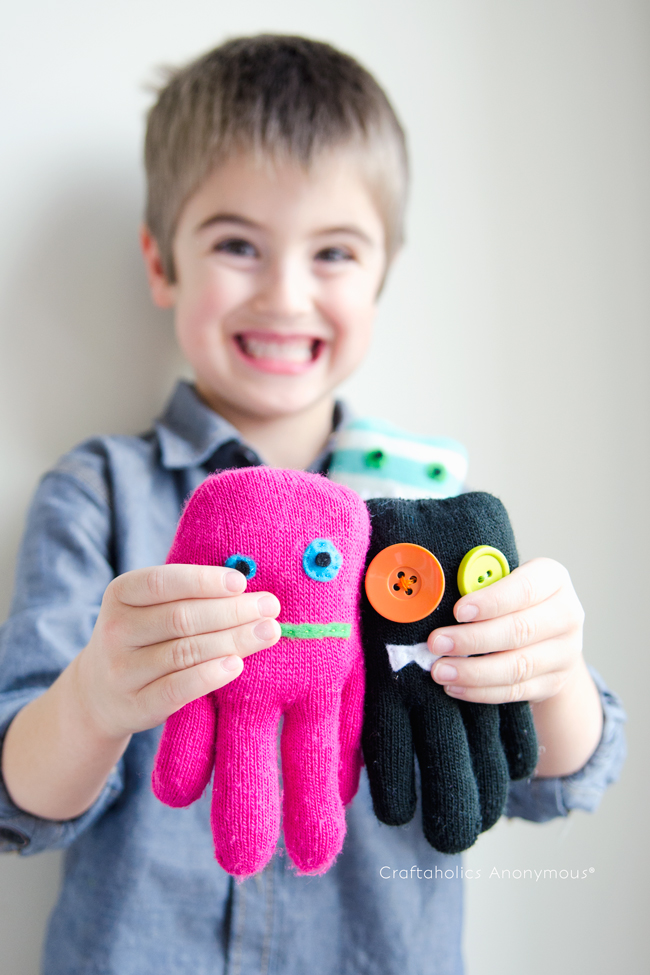 Do you have your child's old gloves lying around somewhere? Or perhaps some of yours leftover from a vacation abroad. If you do, then let your little girl get crafting to make these easy but adorable glove monsters from Craftaholics Anonymous! This is a great project for kids learning to sew, or you can help with the sewing part.
With a bookmark as bright as these, you're sure not to miss a page anymore!! North Story has a tutorial for some great looking neon bookmarks that are perfect for little brothers who love to read but keep losing track of their page!
This gift is a lovely way to recycle Styrofoam plates. Pink Stripey Socks shows us how you can turn trash into a beautiful mosaic picture frame; just insert a picture of both siblings together, and you're done!
4. Silly Putty
Boys are known for loving everything that is squishy and slimy; which makes this silly putty from Coffee Cups and Crayons a perfect gift for brothers!! You need just a few ingredients for this squishy wonder. Make a set in different colors for additional fun!
This cardboard construction set from Happy Hooligans is a gift that won't cost you a single penny! All you need is some strong cardboard and you're all set to make this construction set that guarantees hours of fun!! Let the building begin!
All kids love personalizing their belongings, and this block name stamp from Mama Papa Bubba is ideal for it! With a few plain wooden blocks and ready cut foam letters, this is a gift that even a small child can make for her big brother. Add a motif like a plane or car for effect!
Every child should have played with a slingshot at least once!! To make it safe, try making this easy pompom slingshot from The Merry Thought that uses pompom balls as shots – soft and colourful! This might require a little adult assistance, but is totally worth the trouble!
8. Make a car track in a kid's room.
Every little boy dreams of having his own racetrack or a little city to drive his cars through the house. Surprise your brother by creating a easy washi tape town road in the corner of his room. This DIY race car track made with washi tape by Le Jardin de Juliette is so adorable!
Perfect gift for your brother – Teach him to be thrifty while having fun with this cool DIY mason jar project.
This gift idea from Paper Crafts for Children is absolutely genius!! There are so many possibilities, and the pens can be made in various shapes and colors! Let your little girl make a collection of pens – one is not going to be enough!
Once the gifts are ready, help your child pack them in a interesting manner so that the Brother is delighted even before opening the gift!! Yes, you might hear yelling soon after this show of sibling love, but you know it's only because they care about each other so much!