Top 10 Claude Monet Art Projects for Kids
Monet was the father of Impressionist painting. Check out our Art appreciation series – 10 Claude Monet Art Projects for Kids – impressionism, lily pond etc
"I am following Nature without being able to grasp her, I perhaps owe having become a painter to flowers."
– Claude Monet
And flowers were one of the favorite subjects of Claude Monet, the father of French Impressionist painting. It was based on Monet's 'Impression, Sunrise' painting that the term was coined and came to refer to a style of painting dealing with one's impressions about nature, particularly landscapes.
Monet's paintings aren't very detailed and rather than replicate the scene before him, he focused on painting what the scene said to him. This is a great way to get kids to understand art too, by asking them to express their ideas of the scene before them.
To help kids learn a little more about Monet, we've put together a list of Monet activities, that are simple but fun to do!
Top 10 Claude Monet Art Projects for Kids
As can be expected, Monet's works are mainly focused on scenes of nature, and he often painted the same scene multiple times, from different angles and in different lights.
His paintings are a detailed study in light, shadows and colors. A good many of his paintings are based on the scenes he saw in the French countryside, particularly his own lavish home and garden.
Here are my favorites!
This art activity from A Little Pinch of Perfect is a lovely way to recreate Monet's style of quick brushstrokes, resulting in that unfinished look. Use a cotton ball to dab and swirl paint on paper. Then use green and white cupcake liners to create the lily pad and lilies respectively.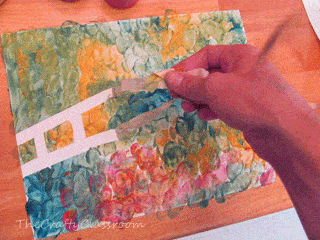 Many of Monet's paintings featured a Japanese style bridge in the middle, over the lake of lilies. This artwork from The Crafty Classroom focuses on this bridge, with a very simple activity – stick tape in a bridge shape and use fingers to print all around the paper.
When done, peel off the paper for a lovely piece of art!
Monet didn't paint only flowers, he also did about 140 snowscapes. This art by Deep Space Sparkle is inspired by Monet's Magpie, his largest winter painting and shows and uses masking tape to create the effect of birch trees in snow.
This one includes some tricky painting, so it's better reserved for the older kids.
FREE DOWNLOAD
Looking for a resource to explore Art Appreciation with kids? Click the image below, enter 0$ in the price & download our Printable 'Famous Artists' Mini Cards & Art appreciation Worksheet for free.

Many of Monet's paintings featured his wife and son as models, and The Stroll is one that features them both. It is also known as 'Woman with a Parasol'. Show kids the original painting, and then let their impressions of the original guide their choice of colors in the printable sheet.
Besides water lilies, Monet painted a lot of poppies. While they share the 'unfinished' look of the water lily paintings, the poppy paintings are generally brighter and feature less water and are a study in perspective.
Get some poppy action with this easy to make, but very pretty poppy collage craft from Meaningful Mama.
This is truly an activity Monet would be proud of! Since flowers feature so much in Monet's work, why not make a painting using flowers? This painting from Playful Learning uses flowers to print on paper, and then uses a ruler to scrape blue paint from one end to the other, creating beautiful 'ripple' effects, just like a lake!
The kids at K-8 Art shows us how to put those artsy skills to use and make a beautiful Monet… right in the comfort of your own home! All you need are a few brushes, acrylic paint and a dose of creative inspiration!
This craft from K8 Art is adorable! Get kids to make their own versions of Monet's art and frame them in little Popsicle stick easels. True impressionism!
This craft lesson from It's Art Day is a lovely art project for kids. Use tempera paint on a cardboard circle to paint Monet's pond and water lily. Make painted paper leaves and flowers out of scrap paper. The project is a little challenging, so it's better suited to older kids.
This is a super easy craft from artreekids that even toddlers can make! This is my favorite watercolor idea combination: wax resist and Claude Monet. It makes sense to me.
Everybody has crayons at home, wax resist is a simple technique that even the smallest kids can master very well and Claude Monet… well, what can I say? I love Impressionists and the "not finished" or "almost abstract" feel to their paintings is easy for kids to master.
I also loved the Lily pad artwork featured on artsonia.com
Monet saw beauty in all aspects of nature – the flowers, the water, the sky, the snow and the trees. He saw them in his mind's eye and captured those images in his paintings, disregarding whether others found them incomplete or not.
That is a great message to teach kids about art, and how art is a very personal thing. As Monet said, "Everyone discusses my art and pretends to understand as if it were necessary to understand when it is simply necessary to love."
FREE DOWNLOAD
Looking for a resource to explore Art Appreciation with kids? Click image to download our Printable 'Famous Artists' Mini Cards & Art appreciation Worksheet for free.

Related posts in our Art Study