100+ Diwali Ideas – Cards, Crafts, Decor, DIY and Food
Deepawali or Diwali is certainly the biggest and the brightest of all Hindu festivals. It's the festival of lights (deep = light and avali = a row i.e., a row of lights) that's marked by four days of celebrations.
We love Diwali at home and its the time of the year when the whole family is in one place, celebrating and enjoying.
It's also the time for activities that we do as a family. Be it decorating, cooking, shopping, or crafting. If you are a mom who is wondering how to keep kids occupied while doing some activities that bond you together as a family, then look no further. Here are
100+ Diwali Ideas – Cards, Crafts, Decor, DIY and Party Food
---
Diwali Card Making Ideas for kids
Diwali is almost here and if you can't be with loved ones, why not make a pretty Diwali card and mail someone? To make things are easier for you, I have a few creative Diwali card ideas for kids. Handmade cards are after all everyone's favorite and add a personalized touch that no ready-made card can convey.
Download our Free Diwali Printable Pack
Get into the mood by sending out handmade Diwali cards to family & friends. Check out our post –
Spread the festive spirit among your friends, family, acquaintances, colleagues and loved ones with these easy DIY cards. Here are a few from that list & more..
Diwali card made by stitching satin ribbon
.. String in some satin ribbons
https://www.familyholiday.net/diwali-homemade-greeting-card-ideas
Diwali Cracker cards – Easy cards to make with paper & twine.
https://www.artumbrella.in/blog/2011/diwali-2011/
Diwali Pataka cards using Glitter tapes & Glitter colors
https://whatscookingmom.in/handmade-cards-for-diwali/
Diwali Diya Card using small mirrors
https://artplatter.com/2012/10/handmade-diwali-card-with-a-diya-center/
Try some stitched Diwali Candle Cards
https://ujjwal-handmadewithlove.blogspot.in/2010/10/diwali-wishes.html
---
DIY Diwali Toran Ideas
Torans or wall hangings are used to decorate the top of doors, thus indicating that the Goddess is welcome. However, even without the religious aspects, a toran can definitely brighten up any space.
Torans can be made from various objects- flowers, beads, or even from a thread. Try to incorporate the colors red, yellow, and orange to make it look more inviting. Torans are the excellent finishing touch to any Diwali decoration.
DIY Diwali Diya Decoration via Craftastic
---
DIY Diwali Decorations for your home, office & classroom
The warmth from diyas, the twinkling of fairy lights, and then the colorful rangolis. There might be many ways to celebrate Diwali, but decorating our homes, offices or classrooms must be the priority. That's why you need to read our go-to-list for Diwali decoration ideas.
Crafts provide the perfect opportunity to sit and make stuff as a family.
Make a Diwali Kandil Wreath for your door
We made a foam Diwali kandil for our main door https://artsycraftsymom.com/the-kandil-at-the-door/
so pretty via redtedart
Noise Free Foam Diwali Crackers for the walls
Go noise free with these cute foam Diwali crackers adorning your walls or stick them on a card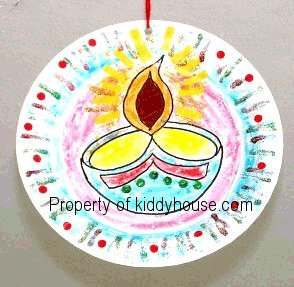 and can be used as a Diwali Diya wreath too.

Turn a Paper Cup into Diwali Toran Craft – Kids Craft Art Platter
Make Diwali paper Marigold Garlands
DIY Paper Diya.
I love Angela's DIY ideas and this one is her latest offering. DIY paper diyas. Check out her post here –
https://thecraftyangels.com/diwali-craft-paper-diya-tutorial/
---
Beautiful Diwali Lighting Ideas
No Diwali decoration is complete without Lighting. While string or strip lights are one way to do that, I have some interesting ways in which you go light it differently this Diwali.
Paper lampshades are a novel way of decorating the house on Diwali. They can be easily made at home in amazing patterns and colors. Besides, you can make them in different sizes giving you the option of decorating the house in any way you desire. Place them on a Table, Hang them in a corner or string them up as a garland.
Diwali-inspired Candle Decor
Looking for more captivating decorations for Diwali? Then you definitely need to check the above image out. See how the candle arrangements make the decoration one of the best examples of Diwali-inspired marvelous decor. The combination of a white and red candle made the layer look like a sparkling decked decor.
Read more at https://easyday.snydle.com/diwali-decorations.html | Easyday
DIY Paper Cube String Lights via Wit And Whistle
Katie Steuernagle from Matsutake, was apparently huddled in her kitchen staring at some empty spaghetti jars when a brilliant thought came to mind. With a bit of gold dimensional paint and glass paint, her house was soon filled with a Moroccan summer. Amazing!
Hanging paper lanterns
How gorgeous do these paper lanterns look? Another crafting genius idea by Angela
https://thecraftyangels.com/colorful-paper-lantern-tutorial/
---
Check out 15 Sparkling Firework Crafts that are fun, flame-free, kid-friendly ideas perfect for Diwali & more!
---
Diwali Books & Activities for Kids
Tot Labs Diwali Sparkle Digital Bundle for children!
If You are in India, You should not miss this darling book by my friend & fellow Blogger Amrutha from mummadiaries.com
"All about Diwali" during a pandemic – this fun storybook gives simple facts about Diwali especially emphasizing the current pandemic (and how it should not deter our festive spirits). This eBook comes in two variants – a PDF version as well as a FlipBook version that can be viewed on all devices!
Children will have LOTS of FUN flipping the ebook pages & reading the lines! The storybook talks about the current pandemic along with the 5 days of Diwali. At the end of the storybook, the children get 5 fun tasks to do – one for each day of Diwali. Perfect for ages 2-10 years.
Buy it here
It also comes along with a
Diwali Activity Bundle – This is a 50-page bundle full of fun facts & activities themed around Diwali. The bundle has two sections – a printable section as well as a non-printable, so one can enjoy the activities with or without a printer! The bundle has lots of coloring pages, activity prompts, math & sorting activities to name a few.
Mindfulness ToolKit for little Children – This beautiful resource has prayers, shlokas, yoga poses & mindfulness prompts. There are in total 15 rituals – each of them is simple, non-preachy & fun! Again comes in printable or non-printable version.
AMMA TELL ME ABOUT DIWALI by BHAKTI MATHUR
Reading Age – 6-8 Years
This book is part of the Amma, Tell me series, that includes many major Indian festivals and mythology. The Diwali version has rhyming prose and covers pretty much all aspects of Diwali – the story of Ram, the story of Lakshmi as well as how it is celebrated. This is great for little kids celebrating their first Diwali and for kids who are unfamiliar with the festival.
Buy it here –
Amazon.com https://amzn.to/3mWbTWH
Amazon.in https://amzn.to/3p7eNJQ
---
Diwali Rangoli Ideas
There is no Diwali without at least one rangoli design gracing the doorsteps. An integral part of Diwali, rangolis are widely considered to be auspicious. They might look complex, but you don't need an artistic streak to make beautiful rangolis.
No festival is complete without a Rangoli! For an eco-friendly Diwali decoration, it is a good idea to use organic rangoli colors. The organic colors are widely available online and offline stores. Alternatively, you can use flower petals or leaves to make your Diwali.
You can also prepare Diwali colors by using some kitchen staples like white rice, turmeric, fennel, kumkum, and others for different colors. Here is a small tip to get your rangoli on point- Use rangoli stencils. These are readily available in various designs and sizes.
Make a Flower Rangoli floating on water.
---
Diwali Diya Decoration Ideas
What is even the festival of lights without the quintessential diyas? Earthern, hand-painted, or a one having 8 wicks- we love them all. Honestly, you could remove every aspect of Diwali and celebrate it with only the diyas itself.
The bonus of having diyas is that it costs next to nothing, and is notably environment friendly. Thus, if you like to make sustainable choices, diyas are the ideal Diwali decoration item for you.
Glitter Votives DIY
Add gold paint and glitter to add zing to your votives
Candles are perfect to decorate the home or office. They can be used to decorate pretty much every nook, dark corners, and staircases. It's unbelievable the selection of candles you can get today.
Also, can we not forget that many of them smell so incredibly good? There is also an option for people who like to avoid the waxy mess that many candles bring- electric candles. Electric candles are readily available and extremely convenient to set up.
ƒ '
DIY tealight holder using pistachio shells. How clever is that?
https://thecraftyangels.com/pistachio-shell-candle-holder-tutorial/
---
DIY Diwali Gift & Gift wrapping Ideas
from The Jaipur Craft Company is the perfect gift for your kid to make
Everyone loves to get gifts. Add a little love decorating the gift boxes too.
Decorate a gift box using glitter like this craft by NovelIdeas
Use coir boxes & real flowers to gift wrap
A lamp with a flame is a traditional symbol for Diwali, the Festival of Light. These sparkling boxes can be used as decorations or containers for small gifts.
Use Gold & Silver Washi Tape or Ribbons to wrap
Bling up your Diwali gifts!!! The golden ribbons on a brown paper wrapping make the package look so special.
---
Diwali Party Food Ideas
Throw a modern-day Diwali party with these yummy snacks
No Indian festival is complete without sweets. Try some modern desserts this year and WOW your guests.
This Cocktail Idli Kebabs recipe is an easy way to transform mini idlis into an elegant appetizer for a party. idli chili, masala idli cocktails.

Indian canape recipe of healthy sprouts topped on canapes.
Vada Pav bites, a young and peppier version of traditional Vada Pav, are perfect for a fun Diwali party
As colorful as real fireworks these kebabs will spark interest in any Diwali party.
Perfect digestive – paan shots
These easy snacks are crispy, salty, delicious and melt in mouth appetizer and can be prepared in less than 20 minutes.
What do you think of this collection? If you have a Diwali craft to share, mail me and I will feature it on the blog.